Solar Codes and Standards
Solar Codes and Standards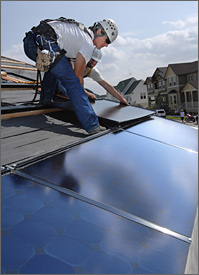 The Solar America Board for Codes and Standards is a collaborative effort of photovoltaic (PV) codes and standards experts who gather and prioritize input from the broad spectrum of PV stakeholders, including policymakers, manufacturers, installers, and consumers. The group administers and coordinates recommendations to organizations that establish codes and standards for existing and new solar technologies. The Solar America Board for Codes and Standards (Solar ABCs) generates and distributes consensus 'best practice' materials, answers code-related questions, and provides feedback to the U.S. Department of Energy (DOE) and other government agencies on issues relating to codes and standards. DOE's Solar Energy Technologies Program funds Solar ABCs as part of its commitment to facilitate the widespread adoption of safe, reliable, and cost-effective solar technologies.
The Solar America Board for Codes and Standards makes recommendations for improvements to a broad range of codes and standards related to solar energy technologies, including:
Fire safety codes and standards

The National Electrical Code

Grounding for solar electric systems

Solar cell performance

Creating standard definitions for utility capacity credits

Grid interconnection

Net metering

Solar access laws.
Before the creation of SolarABCs, the practice of developing, implementing, and distributing solar codes and standards lacked coordination, access to policymakers, and a centralized repository for information and best practices.
www.eere.energy.gov
---